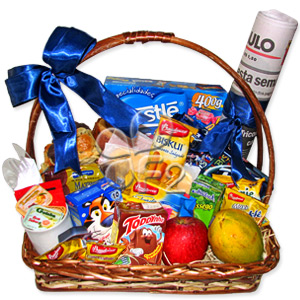 Category: Gifts/Specialty/Flowers

Product: Elegancia de Manha

Price: View !!!

Description: Start your day the extravagant way with this fancy basket bursting with a variety of different types of breads and toasts, croissants, brioches, a sachet of cappuccino coffee, tea sachets, honey, jam, a small cake, cookies, salty biscuits, fruit juice, cocoa milk, sugar and sweetener, sliced cheese and ham, 2 in season fruits and a box of chocolates. The daily local newspaper is also added as well as a mug, disposable cutlery and a napkin.