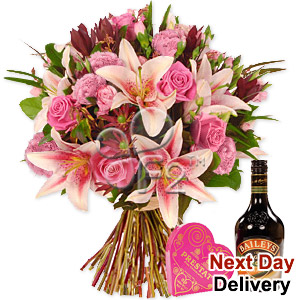 Category: Gifts/Specialty/Flowers

Product: Royal Prestige

Price: View !!!

Description: A tribute fit for royalty presented through this extravagantly stunning bouquet of pink lilies and roses accompanied with a 12 chocolate selection of Prestat's dark, milk and white handcrafted chocolates, marzipans, fudges, toffees, nougats and nutty clusters along with a bottle of Baileys,The Original Irish Cream.