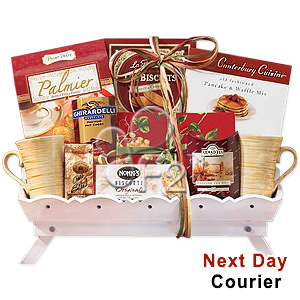 Category: Gifts/Specialty/Flowers

Product: Morning Jumpstart

Price: View !!!

Description: This gift contains a wonderful assortment of gourmet delights to start your day with a punch and a handy way to serve your family too. Old-fashioned pancake and waffle mix, Ghirardelli rich and creamy double chocolate hot cocoa, Nonnis original biscotti, Gavina coffee, butter flake pastry, Ahmad English tea, vanilla cream biscuits and more are brimming from this folding serving tray. Beautiful mugs and a matching napkin complete this eye-opening collection. It is so good they will be asking for seconds.