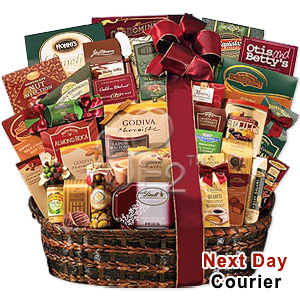 Category: Gifts/Specialty/Flowers

Product: Business Class

Price: View !!!

Description: You cannot go wrong with this large basket, ideal for holiday gift giving. It is filled with the most delicious items so everyone is sure to find something they will enjoy. Walkers chocolate covered fruit and nuts, Godiva dessert chocolate, milk chocolate almonds, olives, assorted Lindt Lindor truffles, Brown & Haley buttercrunch toffee cookies and chocolate graham crackers, sticky toffee, Godiva milk chocolate macadamia nut biscotti and more fill this burgundy basket. They will enjoy every item and love the great new look of this impressive gift collection.